One of my passions in life is helping people understand the significance of eating dinner together at the dinner table.
Think about it–there's so much involved: social graces, learning about new foods and how to enjoy them, table manners, pleasant conversation and the small talk about one's day.
The benefits are huge for the family–but that's also true even if the table is set just for one.
I cannot tell you how many times I've heard from women especially, that they no longer take the time for a good meal or sitting at the table–"but it's just me…" they say.
Yes it is "just you" and maybe that's even painful to think about right now.
But I promise you–setting the table for "just you" with a napkin, silverware and maybe even a wine glass and some candles, announces to the Universe who you are: significant, important, and someone who should definitely be fussed over!
Food for one can seem lonely though–that's why I recommend you always cook for two!
True, you might be the only one at the table, but that extra serving is a fabulous leftover for lunch the next day–and you've just taken your cooking down to about half the work if you do this regularly.
Eating for one is as much of a privilege and lovely occasion as eating for two or more can be–if you let it be so!
It's all in the way it's presented–always. Isn't that how it is with everything?
The lovely setting, the candles, a glass of wine, some flowers on the table and a well-thought out meal that feeds both body and soul, will elevate your solo dining experience forever.
Some things to keep in mind:
Good nutrition is a balm to the psyche–when you eat like crap, you feel like crap. Up your game on the food your feed yourself–you're worth the very best.
Cooking is therapy–if you allow it to be. Put some music on and cook like you've got company because you do–YOU!
You don't always have to dine alone–invite a friend to your home. Even better, offer to cook dinner for a friend and go over to their house and do it together!
Mealtime can equate to alone time or lonely time–it's up to you.
Here's a delicious recipe I make ALL the time, Garlic Lime Chicken. Go ahead and make it for 4–it freezes well, is so easy to make and the variations will keep you trying something new!
---
Garlic Lime Chicken
Serves 4
Ingredients:
1/2 teaspoon salt
1/2 teaspoon pepper
1/8 teaspoon cayenne pepper
1/8 teaspoon paprika
1 teaspoon garlic powder
1/2 teaspoon onion powder
1/2 teaspoon thyme
4 boneless skinless chicken breast halves (pound so they're even if you like)
1 1/2 tablespoons butter
1 1/2 tablespoons olive oil
3 tablespoons lime juice
1/3 cup low sodium chicken broth
Directions:
In a small bowl, combine first 7 ingredients; sprinkle mixture on both sides of chicken breast halves.
In a skillet, heat butter and olive oil together over medium-high heat; saute chicken until golden brown, about 5 minutes on each side; remove from skillet and keep warm.
Add lime juice and chicken broth to the skillet, whisking up all of the browned bits from the bottom of the pan. Cook until sauce has reduced slightly. Return chicken to the skillet to thoroughly coat with the sauce; serve.
Nutritional Information:
Per Serving: 343 Calories; 11g Fat; 55g Protein; 2g Carbohydrate; trace Dietary Fiber; 147mg Cholesterol; 612mg Sodium. Exchanges: 0 Grain (Starch); 7 1/2 Lean Meat; 0 Fruit; 1 1/2 Fat.
SERVING SUGGESTIONS (low carb): Steamed green beans and Cauli-rice (process cauliflower in a blender or food processor until it resembles grains of rice; steam "rice" until tender; drain; salt and pepper to taste and fluff with a fork).
SERVING SUGGESTION: Serve with brown rice instead of Cauli-rice.
KOSHER: Use all oil instead of butter and oil.
---
Variations of Garlic Lime Chicken:
-Tex Mex
Top with cilantro, avocado, tomato and red onion.
Serve with black beans, whole wheat tortillas and a large salad.
-Capers Verison
Use 4 tablespoons lemon juice instead of lime juice.
Top with capers and parsley
---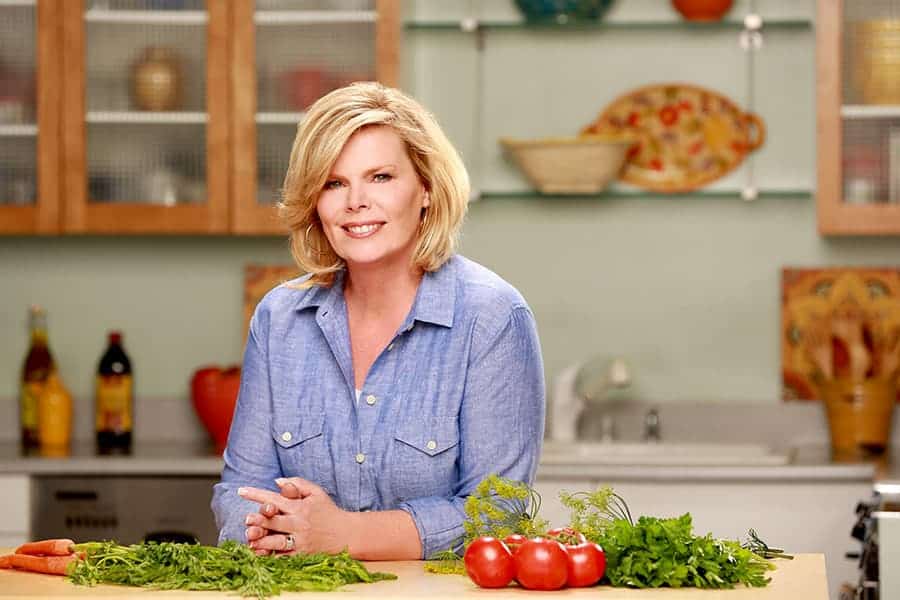 Leanne Ely began creating Menu-Mailer on SavingDinner.com in 2001 to help families get back to the dinner table.  Within just a few years, Readers Digest declared a new industry had been born — the menu planning industry — and Leanne was dubbed the "mother" of menu planning.
SavingDinner.com's goal is to bring families closer together by enjoying healthy and easy-to-prepare meals.  We do this by creating innovative menu planning products like Premium Menu-Mailer, which includes delicious and nutritious recipes, shopping lists and nutritional information!
SavingDinner.com also features an informative daily blog where you can find nutritional tips and tricks, delicious recipes and the tools you need to eat healthy and prepare delicious family dinners!